Dear PS I Luv U.
I am writing to let you know how happy I was, and how overjoyed my granddaughter was, when I gave her your singing bear, Butterfly Kisses, with the moving butterfly on its nose, for the holidays. I traveled to Florida with my wife to visit my granddaughter and brought the singing bear with us on the plane. I must tell you the other passengers on the plane were thrilled with the bear, and hopefully you may have some new customers down the road. I heard about PS I Luv U from another, more than satisfied, customer who too purchased a different singing bear from you. Your product is outstanding and so was your price. I would also like to thank you and your company for making a contribution on my behalf to my chosen charity.

Sincerely,
A proud grandfather and a very happy granddaughter. PS…I heard she will not stop playing with the bear!
Football Fanatic Gift Basket Review –
For my most recent birthday I was the proud recipient of the football themed gift basket. It came as a complete surprise to me and was shipped right on time. In fact, I later came to realize after speaking with my Dad that it was even delivered ahead of schedule! After tearing through the cellophane wrapping all I wanted to do was load up my included tray with all the finger foods and snacks I could possibly want and plop myself down in front of a game. I can speak from experience that this basket really was the perfect addition to my Sunday afternoon festivities.

Alex P, Northeastern University, Massachusetts
Dear PSILuvU, It was so much fun visiting your sight and seeing how many wonderful gifts you have to choose from. The choice was made easy to select A gift for our neice in college. What I like the most about your business, is the fact that you're making contributions to so many worthy charities. Thank you.
A very pleased customer from NY
I sent my college student son a gift basket for his birthday. This is his 3rd year at school and in the past I wasn't able to easily send him anything. Not only was he thrilled to get the basket of treats, but it was easy for me to do it. Thank you PS I LUV U for taking the stress and hassle out sending a package to a loved one.


A Dad
Long Valley, New Jersey
I got one of the halloween gift baskets as a thank you and loved it! Here is the funny thing, I knew it was coming and tore into it right away. My friend who sent it to me asked to see a picture of it when I got it, but he was too late! I ripped into this thing so fast, I didnt read the email to take a picture till after I got it!
These are not ordinary baskets!
Great Product, Great Delivery, Great FUN!
PAY IT FORWARD! Pennsylvania Customer
I was so delighted to receive a basket sent to me by my wonderful grand-daughters. The basket was beautiful and filled with a delicious assortment of foods and gifts. So far, I have opened the cheddar corn and honey pretzels and one was even better than the other. I can't wait to go into my basket for my next treat & to order from PS I LUV U for my all my friends & family this holiday season:)


Thank you so much PS I Luv U, keep up the great work! Grandma F. from Long Island, NY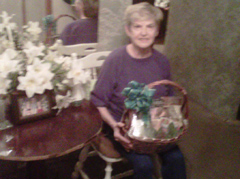 I have looked at the site psiluvu and ordered. It is a fun site and has a good selection of of things to choose from. I especially like the fact that some of the profit goes to Charity. The shipping was fast, and the order was correct.
A satisfied customer in Georgia

---
Dear, PSILUVU...........
.I am a first year nursing student in SETON HALL UNIVERSITY NURSING SCHOOL of course it is hard being away from home, and the stress is sometimes overwelming.
Well I guess my parents realized I needed something to pick me up. I went down to the mail room and though I was picking up another letter or magazine but to my suprise
it was a bear she was dressed in pink scrubs and it was the cutest thing I ever saw. I rushed to my dorm room and showed all of my nursing friends and they were so jealous.
They wished that their mom or dad would have thought to send them something so thoughful and fun. But the best was yet to come, we realized that the bear sang.....the song ILL BE THERE
well you could imagine how that went over everyone wanted to press the button and try her. It made me feel special. I know why they pick that song for the nurse bear, because nurses will always
be there for thier patient, but I also took it that my parents would always be there for me. Anyway thank you soooo much for having this great website with great gifts. I look forward to getting more
packages sent to me its like a hug from home.......
PS...I named my bear Nicole.....I love her very much XOX